Just got my new overclocked gaming PC and a new pet… a pet dog that is =p
First my new pc…. >=)
Specs:
Abit IP-35E (BIOS FW14-B5)
Intel E6750 2.4ghz (Overclocked to 3.2ghz)
Geforce 8800GTS 320MB (Overclocked)
2pcs PC-800 1 gig mem (Forgot the name)
320 gig WD Sata HDD
160 gig Seagate IDE HDD (Backups)
LG Sata DVD+/-RW
Antec P180-B (Black Casing)
One thing to note, the casing is freakishly HEAVY!
After a year of planning an waiting… I can now play online games smoothly and with the peace of mind that I wont get lagged. hahah… WoW, C&C3, RF, Quake … here I come!!
Next in line would be either a PS3 or a new LCD screen, but I'm in no hurry 😉
Pics: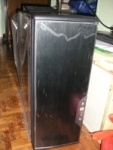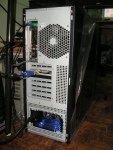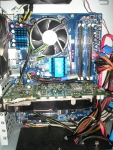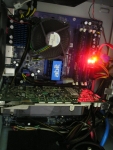 Next…. My new pet… given by a good friend when I went to Manila for the weekend. Its a teacup poodle… black and, of course, small! =p I always wanted a pet dog, small types, since they can be carried wherever I go. haha!
If you want one.. visit here
Pics: