---
Three weeks, and counting, of using Google Nexus One and loving it!!!
I've been holding out on purchasing the Nexus One since its release due to the fact that I _know_ new gadgets will always have bugs, and I was right.. there are and still have issues, from 3g connection issues to touch screen issues to bluetooth issues etc… So, I waited close to 3 months and see if this is really a hardware problem or software and as far as I observed, its more of a software problem.
Below are my un-boxing pics, and my review will follow.
---
First post from Nexus One!!! Will post review later on, so stey tune.
---
Well Christmas is approaching again… hmmm… what should I start wishing for anyway?
Let's see…
Nexus One (On its way =D )
Omnia 2??
New Gaming Mouse (Logitech)
Camera filter (UV HD Filter from Hoya)
Final Fantasy XIII
Though there is one more that I want but… I'll leave it up to you to guess the last one =p
Update: Checked FF13, updated Nexus one status 😉
---
My new laptop arrived yesterday, a Dell Studio XPS 16. The specs…
Intel Core 2 Duo P8700(2.53GHz/1066Mhz FSB/3M L2 Cache)
4GB, DDR3, 1067 MHz 2 Dimm
16.0 inch Wide Screen 16:9 1080p FullHD RGBLED LCD W/2.0 MP
ATI Mobility RADEON M96XT – 1GB
500GB 7200RPM Free Fall SensorSeagate Hard Drive
8X DVD+/-RW Slot Load Drive
Intel WiFi Link 5300 802.11AGN Half Mini Card
Windows Vista SP1 Home Premium upgradable to Win7
Very happy with the outcome, though one problem, its vista… though it comes with a free upgrade to Windows 7 when it comes =D
Will post pics later of the un-boxing.
P.S.: K… don't kill me X_x
---
Thought I'd make a list of  WoW Addons I use just in case if forget….
Atlasloot Enhanced
QuestHelper
Cartographer
Titan Panel
Auctioneer
IceHud
bartender4
npcscan
omen threatmeter
recount
quartz
ratingbuster
BossTactics
Deadly Boss Mode
What do you  use?
---
Finally! after 2 years of playing WoW, I 'finally' reached the level cap for my Bloodelf hunter… rofl.
Now the fun part begins, where to start, get my epic Netherwing mount, get l33t gears, upgrade my profession, finish instances and achievements.. lol soooo many things to do.
Also, I'll be studying raid encounters strats now since I'll be raiding once in a while with the guild that I just joined recently, Purple Fever, from Bonechewer server. Technically, I'm very new, as in 0 exp in raids, wish me luck lol.
I'll post pic later when I get home.
Update, pic added: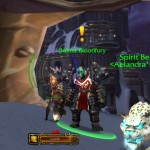 ---
Gave me an idea to make my own list after seeing the list from http://blogs.techrepublic.com.com/10things/?p=497.
Process Explorer
Autoruns
Notepad++
Comodo Antivirus/Firewall
VMWare Server
Sandboxie
FireFTP (Firefox Plugin)
WebDeveloper(Firefox Plugin)
Firebug(Firefox Plugin)
Putty
WinSCP
Recuva
Revo Uninstaller
WireShark
Acronis Disk Director
Acronis True Image
Spinrite
UBCD
I'll add more when I remember the others, have them on a bootable CD lol.
---