What a month and what a new year…
Remember my phone that died out on me last December? Got it fixed last December, minus the 3 1/2 years worth of contacts and messages saved in the phone's memory. X_x Though, it may have been a 'mix' blessing in disguise, mix in a sense I have to shell out a few more thousand cold hard cash to purchase a new phone. Hahaha! ah well, though the new phone is also what I really wanted. A new Nokia E51 business phone… the price was not even that high! Would have picked the Ericsson K850 but the price tag was too much, 20k+ (ouch!).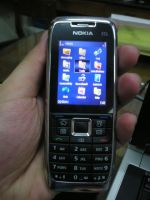 Now to the specs… "candy bar" style, silver color scheme, aluminum frame and casing, 130mb build-in phone memory, expandable to 4gig ( 512mb was included though, not bad ), 3g hspda ready, 2mp camera, pdf reader, mp3 player, radio station tuner, doc and excel reader, personal assistant, sms reading software (reads your text messages loudly) and the best of all.. Wifi ready!!
Now I also got a few gadgets that will go nicely with the new gaming system at home.
Continue reading