---
Mamma Mia! The Musical…. what can I say, It. Was. Amazing!!!!
From the beginning of the show, you are propelled into a world of comedy and romance. I won't go into the details on what happened in the play, cuz I think the movie and play speak for itself already, and there are summaries and reviews floating around the net.  Also I wont compare the movie and the play since both are different in ways. What I will write here is from the perspective of an artist. I am writing this experience as a way of  specially thanking Ms. Daisy Ba-ad and Ms. Michelle Simtoco for introducing me to the world of theatrical arts and musicals, to which I now enjoy very much from the very bottom of my heart. Also, I'm dedicating this to the Siddhartha cast family also, since they can't be here to watch it with me 😉
Where to start, there's so much to say about the musical. It's everything an artist could hope or wish for, and to top it off, IT'S IN BROADWAY! I was already propelled out of my seat and into another place. I have forgotten that I was in a theatre was now in Greece!
Lets start with the location. The theatre was completely full, and this has been running more than 10 years and still draws a sold out crowd. The theatre was amazing, from the orchestra seats to the box seating on the side wall and balcony seating on the 2nd floor, everything was high-top class. If you saw from those movies where inside the theatre it's like a classical/contemporary setup, it's really true to the every aspect from where I went. I was seated real close to the stage, 4th from the from the front seat and center seat from both sides, so I had one of the best view/seat in the house, right at the center =D
The music…well it was live band! No kidding! There was even a conductor and SHE was leading the orchestra/band while they play the music/songs. The band was under the stage but can be seen from the outside. What we did in Cebu was pre-record the numbers for the production, but here, it was live. I was so impressed. Next the lapels, I COULDN'T FIND IT!! lol I tried to look for the mics but it was really hidden from sight, I did notice something in there left or right ear that was skin colored, hmm.. maybe that was it =p
---
Few days has passed since I arrived here in Lexington last Saturday, Aug 15. 4 plane trips, total of 20+ hours plane ride, my butt hurts! Had to sit beside a chinese from Hong Kong who takes the whole arm rest to himself and sleeps leaning towards me… sheesh!
Currently staying at Residence Inn by Mariott, looks nice and homey. Has a kitchen and a living room, two bedrooms, 1 CR each. I'm sleeping on the 2nd floor. Open room, no door to lock.
I have been around Lexington already for the past few days… window shopping. Areas visited include Fayett, Hamburg, Lexington proper. No tourist spots yet.
The stores are having there summer sale and boy the sales are really great! Nike shoes go as low as 50% off, and its not those normal ones!
Monday was a slow day, work, complete paperworks, meet the team, etc.. the normal working stuffs.
I'll be posting some pics soon around Lexington when I get around to actually upload them =p
---
Finally! after 2 years of playing WoW, I 'finally' reached the level cap for my Bloodelf hunter… rofl.
Now the fun part begins, where to start, get my epic Netherwing mount, get l33t gears, upgrade my profession, finish instances and achievements.. lol soooo many things to do.
Also, I'll be studying raid encounters strats now since I'll be raiding once in a while with the guild that I just joined recently, Purple Fever, from Bonechewer server. Technically, I'm very new, as in 0 exp in raids, wish me luck lol.
I'll post pic later when I get home.
Update, pic added: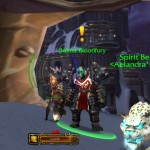 ---
Got back from Hong Kong last week and been missing that place for years. Been like 6 years since I last went to HongKong. And good timing to go since it was there "End-of-Season" Sale, sale range from a mediocre 10% to a wooping 75%!
Didn't buy much except for the family and a bag and a shirt for my girlfriend, which fits her nicely. I was only able to buy a stuff toy and a blue-ray movie… Final Fantasy Complete!! Woohoo! (Pic below)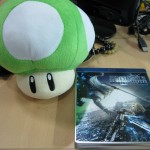 Also took some photos in Macau in one of their tourist spots which was having their flower festival.
Continue reading
---
Well been 2 months of no updates… busy3x.. wish I would have my normal time back *sigh*…
Well back to business, I'm having my legs checked again since I have been having this strange tingling sensation whenever I touch my lower calf left leg. Worst of all, the doctor asked me to stop dancing!! How?! 2 months to go before our show in Ilo-Ilo and Bacolod and I just stop??
---
I came across this online free magazine on how to manage your time to be more productive. A 33 page, 3mb pdf file which contained a lot of information. How to think differently and do things by priorities and etc.. I had no regrets in downloading and reading the eBook/eMagazine and would recommend that you also try reading it, I'm very sure you wont regret it. I even signed up for their newsletter and for future publications =) You can find the link bellow…
---
Been a slow month since getting my 22 inch lcd monitor. I got my groove back playing WoW and working may way past level 41. Should reach lvl 70 by next year hahaha =p I got to reformat my gaming PC, been freaking the hell out of me with its constant disconnections, its back to normal now and less crap inside also, just me and my WoW. Tried cooking a few weeks ago and the soup came out nice, will post that experience later. Stress level… high! got a lot of projects to do and no one to help me, anyone interested? Will be busy these coming week also so with audition and practice for the company's Christmas party contest, its a stage play/musical and I get to die in it haha oh well.. rather than sing, which I can't even if my life depended on it.
ok.. less nagging.. back to work..
---